Nkabom Literary Art Festival is Ghana's pioneering literary event established in 2016 by Inkfluent. Nkabom is Ghana's rooted communal pan-African experience where literature meets art, science, tech, design, performance and more,  aimed at transforming immediate society.
Nkabom 2018
August 15 to August 19, 2018
Theme: Ɛse Ne Tɛkrɛma
The 3rd edition of Ghana's pioneering and contemporary literary art festival, Nkabom Literary Art Festival 2018 will be held in Accra, Ghana and Lomé, Togo, as an extension to pan-African Emancipation Week. The theme is Ɛse Ne Tɛkrɛma , meaning Inter(activity) or Co-existence.
A free thought space where weavers of cutting edge oral and written word, musicians, academicians, artists and influencers from corners of West Africa, and scapes around the world gather to share in an inclusive environment regardless of age, gender, sexuality, religion, educational background, abilities, etc. Diverse languages, multi-media, interactive performances, alternative storytelling, rare archives and open access workshops are welcome.
Nkabom 2017
AUGUST 23rd to 26th
THEME: Unscrambling Africa
Nkabom 2017 had its theme as 'Kenten Spaces'. Kenten means basket in Akan language. The project went out to network poets, novelists and spoken word artists with photographers, DJs, painters, illustrators, theatre artists, musicians, etc such that the inter-weaving of diverse content magnified the perimeters that literature in commonplace is thought to accomplish.
Nkabom 2017 featured Apiorkor Seyiram Ashong-Abbey of Citi FM/TV, Paul Forjoe Jnr Hondred Percent, Václav Šindelář (Slam Champion from Czech Republic), Jimmy Berkley and Gyedu Blay Ambolley and US based Blood Drum Spirit. A radio mash up with Akosua Hanson and Professor of African Music, Dance, and Culture- Kwabena Boateng.
'Unscrambling Africa' breathes a myriad of cultures and stirs about essential resources fundamental for digital renaissance and oppressive distribution streams. Acute philosophies, coded data, rare science and hatched art. The exchange gives voice to previously muted meanings, measures and mysticism.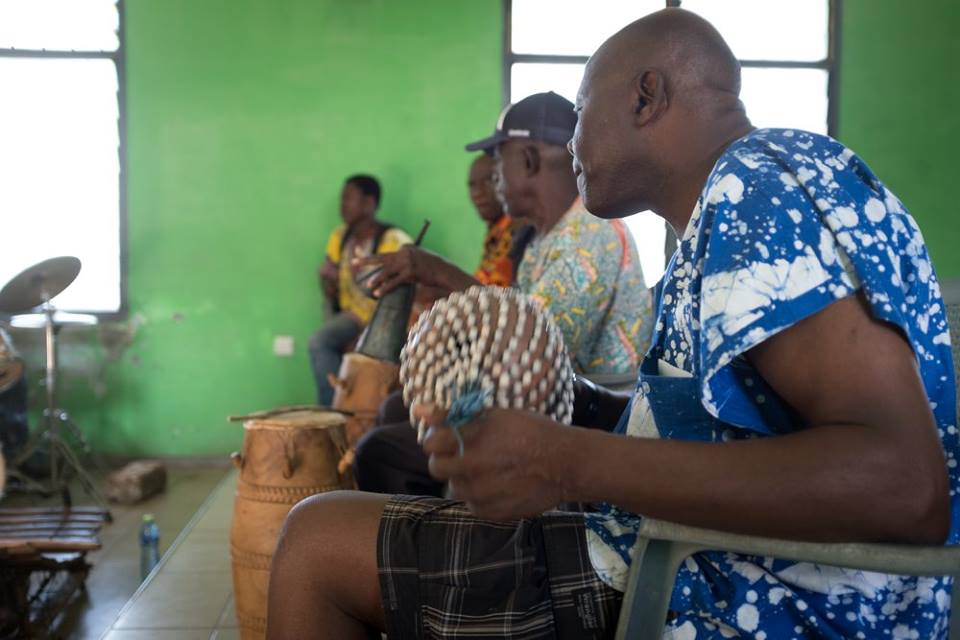 Nkabom 2017 engaged multidisciplinary frameworks and furthered the grid of sustainable ideas through workshops, readings, recitals, performances, screenings, digital applications, etc, in collaboration with cultural provocateurs asking the right questions to inspire social change.
Nkabom 2016
August 13 – August 17, 2016
Theme: Kenten Spaces
Our first experience at organising something bigger than The Write Experience, and building on the context, space, categories and capacity was what resulted in Nkabom Literary Art Festival. The first ever contemporary Ghanaian literary festival pooling young and culminated word crocheters who use ink, voice, music or mixed media to share stories that connect histories, consummate the present to rediscover the future. Theme: Kenten Spaces. Kenten: means basket(in Akan), which are usually used to carry market goods.
Mariska Darko, Daniel Kojo Appiah, Percy Fotombo Osei-Appiah, Betty Stuemer & Musa Swallah  led workshops in collaboration with Kwame Aidoo. DJ Vimtinz was followed by a reading with Martin Egblewogbe hosted by Andy and a storytelling set with Sir Black. VOCAL from Canada- Northern Griots' Anthony Bansfield, Dwayne Morgan, Edmond David, Motion, Osei Alleyne & DJ Elloquenz shared a Literary Empowerment Workshop with University Students and the general public on August 16th at SRC Union Hall, University of Ghana, Legon followed by Fokn Talk with Wanlov the Kubolor and Importing Ghanaians Talk with Alba K. Sumprim. Our guest rapper/poet from Togo was Elom 20ce.